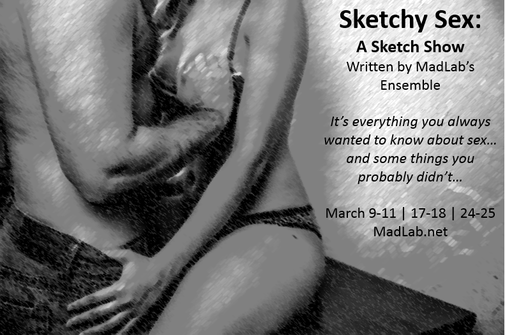 ---
MadLab is back with its first sketch comedy show in almost five years, written by their ensemble. It's everything you wanted to know about sex... and some things you probably didn't.

NOTE: Sketchy Sex is recommended for those old enough to get married (which, ironically, may end your chances of having sketchy sex), but not for the prudish, delicate, or those prone to excessive blushing or embarrassment. Prepare for a night of raucous, raunchy fun!
---
Writers:

Lance Atkinson
Amanda Bauer
Colleen Dunne
Becky Horseman
Kyle Jepson
Shana Kramer
Anna Leeper
Cat McAlpine
Greg McGill
Brendan Michna
Laura Spires
Andy Woodmansee
Stephen Woosley



Ensemble Performers:

Jim Azelvandre
Colleen Dunne
Becky Horseman
Kyle Jepson
Chelsea Jordan
Shana Kramer
Cat McAlpine
Greg McGill
Stephen Woosley



Guest Starring:

Nick Arganbright
Keith Jackson
Shane Stefanchik



​Commercial Performers:

Lance Atkinson
Sheree Evans
Anna Leeper
Laura Spires
Andy Woodmansee
​Josh Kessler

Amanda Bauer
Audrey Rush
Shane Stefanchik
Casey May
Brendan Michna
​Kyle Jepson

Special thanks to Michelle Hanson, Anna Leeper and Shane Stefanchik for photo and video assistance, and to Mary Sink for makeup.

​Special thanks to Shane Stefanchik, Kristin Green, Amanda Iman, and Nikki Smith for help with song recording.