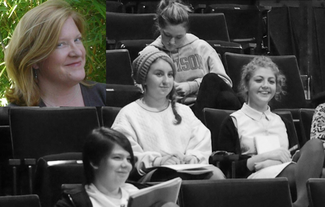 MadLab's Young Writers Talk About Playwriting and Being a Woman in the Theater World.
This year marks the fifth year of MadLab Theatre's Young Writers Short Play Festival. Young Writers participants Maddie Conley and Hannah Woods talked to 2017 (and 2012) MadLab playwright Tira Palmquist about being a female in the theater world and about their experiences in the Young Writers program.
Maddie Conley and Hannah Woods: What made you want to start writing plays?
Tira Palmquist: Before I was a playwright, I was an actor. I also used to be a poet. I have always loved writing, and writing poetry was challenging and satisfying as a means of self­ expression, but
limited in terms of the kinds of issues, stories, themes and ideas I wanted to write about. The transition from writing poetry to writing plays was a relatively easy transition, though, because of my background and training in theater.
MC and HW: How long have you known about MadLab?
TP: When I lived in Columbus back in the 90s, I started working in the theater, and I knew several of the original MadLab folks. I recall their wild Bacchai, which I loved. I've always admired their dedication to new plays and playwrights. I answered a call for scripts a few years ago, and they selected my play Age of Bees for their 2012 season (directed by Jim Azelvandre. I also wrote a short play (Edward Snowden Died for Our Sins) for a 3 in 30 show in 2013.
MC and HW: What advice do you have for female young writers?
TP: First, keep writing. A lot of girls give up because of the stupid and awful resistance they'll get from people who don't take these girls seriously, or who don't value the stories they have to tell.
Second, tell your stories! Tell the stories that you must tell, the stories that, without which, your life would mean less, be less. Third, surround yourself with people who get what you're doing, and who value that. I don't mean that you should surround yourself with people who love you and love everything you're doing: I mean that you should find people who inspire you to write better, write
more, write harder ­­ who inspire you to improve and grow and change and evolve.
MC and HW: Why is it important to have female voices in theatre?
TP: Well, we're half the population! But seriously: If we shut off any voice, we become smaller.
What did it feel like to see your play come alive?
MC: It was magical. It was like going to DisneyLand for the first time, almost. It was surreal. There's nothing like being able to mouth the lines along with actors, you know?
HW: I remember sinking back into my seat in a blend of shame and pride. There was a little bit of they are saying the words I made up mixed with why would I write that.
TP: Can you describe your experience with the Young Writers project at MadLab?
MC: Young Writers was one of the best experiences of my life. From the first moment I stepped inside the theater, I felt welcomed, believed in, and understood. I learned so much from the entire process, from editing and balancing my script to the audition process and how a show comes to life onstage. I bonded really closely with my fellow writers, and I made friends who I know will be friends for life. There is no opportunity for high school writers that can match the Young Writer's Festival. Getting involved with this project could honestly change your life. It changed mine.
HW: The Young Writers Short Play Festival is truly a once in a lifetime experience. As soon as I stepped into MadLab I realized that this was a place filled with people who cared about what young people had to say and cared about amplifying the voices that others don't hear. MadLab truly values a collaborative spirit and the process of building great shows together. Anyone who has ever had a fleeting thought about writing a play should experience how much their creative ability will be stretched and strengthened by this program.
TP: What's next for you (in the world of theater)?
MC: Who knows! I hope to keep writing, learning, and lurking around MadLab until they kick me out.
HW: I have no idea! But I know that I'll keep writing and hanging around MadLab until they make me sweep the lobby or something.