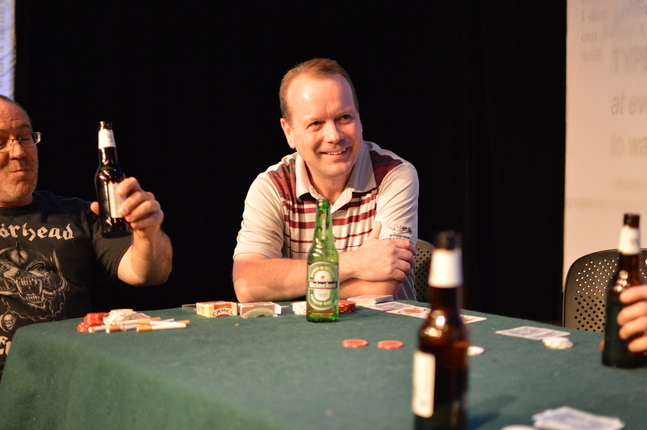 Chris Colgan was set to make his MadLab debut last summer, in the 2015 Young Writers Program, when disaster struck. Here is his story:

All the good actors were busy. MadLab looked way down into the bottom of the barrel and there I was. Honestly I was shocked to get the call from Andy telling me they had a role for me. I had auditioned in 2014, which was my first audition ever, and wow did I stink. I didn't get a role that year. I didn't think the 2015 was much better but it must have been. I was offered the role of Louis in Cards by Julia Stonerook.

The best way to describe the experience is new. It was all new to me. I was taking classes with ATC which was more of a training experience and had done a Christmas show with WCT with my boy which was a big family production. Cards was not a comedy. Four friends meet for a weekly card game. The fifth friend didn't show. Turns out he died earlier that day. Heavier stuff than I was used to dealing with. Michelle and Lexi (the director and assistant director) were very patient and were able to guide me to where I needed to be in the role. And it really helped to be surrounded by an awesome cast. RJ, Mike, and Joe were fantastic to work with and as the only rookie in the cast I knew I could learn a lot from them. Oh, and we all had to learn how to play poker. Not one of us knew how to play, except for the high school girl who wrote the play.

-----TECH WEEK-----

We were ready to go. I was ready to go. I was proud of what we were about to show the audience. But it turns out the script was a bit too prophetic. The morning the show was to open I went to the hospital with what I thought would be something painful but minor and I would be home in a few hours. Instead I was admitted, told it was something that could have been life threatening but the threat had passed, and that full recovery would be closer to six months.

Upon finding out that Chris would not be able to perform, Andy Batt stepped into the role at the last minute. Chris was able to make it to a performance, and he watched the show he should have been a part of.

It was seriously bizarre, like seeing yourself in the third person or something. Andy Batt was in my role and he did a fantastic job. How he was able to accomplish in 8 hours what took me 6 weeks is beyond me. That's some talent right there.

Chris came back to audition again in 2016, despite being nervous.

Auditions were just as intimidating. I thought I stunk just like the previous times but somehow I got another role. These people at MadLab just won't give up!

(This year) I'm just a tiny bit more relaxed and the play is a comedy. At least I think it's a comedy. Mike and I have turned it into one so I hope it is or the writer will be very upset.

On MadLab and the Young Writers Program:

Two things.

First, the YW festival is fantastic and so important. What an incredible opportunity for young people. Everyone involved in this should be very proud and I hope the festival is around for many years.

Second, it's the people. Theatre is the most open and accepting community. Everyone is welcome, you just have to try. I was a bit apprehensive about returning this year after what I did to opening night last year, but far from being rejected I was welcomed as if I had been here for years. It's a good feeling.

*Extra credit - do you remember any of your lines from LAST year's show?
​
For fuck's sake.

I'm not swearing, that was my favorite line from last year.