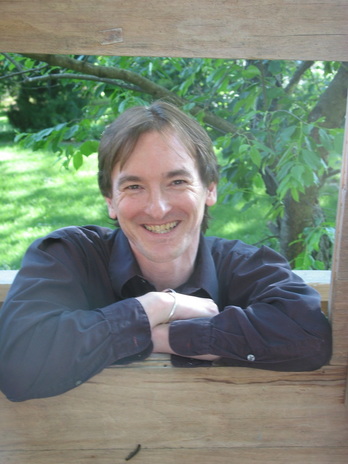 You know the guy from the movie Memento? Who could only keep memories for a few minutes before they evaporated, stranding him helpless amidst a maelstrom of confusing events?

Well, that's me trying to write a full-length play.

Ten-minute plays—a cakewalk. Once I reach the last page of a ten-minute play, I can still dimly recall everything I wrote on the first page. I can remember the purpose which led a character to walk onstage and can double-check that he completed that purpose—or at least gave it his best shot—before granting him permission to walk off again.

But if that character moseyed onstage two acts and 90 long minutes ago, I will be sitting there staring at him on the page thinking, "The name is familiar, but I just can't place the face."

As you can imagine, this leads to some embarrassing inconsistencies in the early drafts of my full-lengths. "Chris, I could have sworn that character was described as an albino sword-swallower in scene 3. Are you certain you want him to be taking his vows for the convent in scene 8?" Well, I was certain, but now I guess I'll check my notes.

So I was always a little jealous of the Greek hero Argus. He had one hundred eyes that never closed. Because nothing ever evaded his gaze, the goddess Hera hired him to keep Zeus from getting his horny hands on a white heifer. (Zeus, the very first drunken fraternity brother.)

If I had one hundred sleepless eyes, besides being a Visine hoarder, I might be able to successfully keep track of the relationships, motivations, secrets, and confessions of my cast of characters throughout the entire length of a full-length play. But I don't, so I can't. Few playwrights can. And that's why Dionysius (when he and Zeus weren't busy playing Wine Pong or paddling pledges) invented staged readings.

A staged reading provides me with my own personal Argus: the audience. Their roving, restless eyes can spot all the inconsistencies and errors I've littered about my script. Have I described a character as a vegetarian in one scene only to have her emerge victorious from a hot dog eating contest in another? Argus the Audience will wildly wave their arms to alert me. Have I assigned three different names to a character's childhood pet? Argus the Audience will shout out my error (along with their pick for favorite name).

On my last visit to Columbus, MadLab was kind enough to provide a staged reading of Scritch Scritch. The feedback from the audience helped me to write a new draft that was not only less riddled with errors, but teeming with richer characters, sharper conflicts, and more fully realized moments. Without that theater full of people willing to donate their much-pressed time and attention to sitting through a rough read of an even rougher play, I could have never shaped Scritch Scritch into a play worthy of a full-scale production. I couldn't have done it alone.

Theater is at all points a community effort, even at that point where a playwright is sitting alone in a dark office staring at the latest draft of his play up on a glowing screen. Because he is not staring at it with just his own two eyes. He is staring at it with a hundred other eyes, lent to him by people who know about theater, who care about theater, who make theater possible. He stares at it with the eyes of Argus the Audience.

P.S. Got two eyes to spare on Saturday, September 3, at 5pm? MadLab will be putting on a staged reading of my newest full-length, Playground Rules. Directed by Jim Azelvendre with a cast of Colleen Dunne, Stephen Woosley, Shana Kramer, and Melissa Bair, the play peeks in on a summer night full of swingers and swing sets, see saws and seduction, Gummi Bears and growing up. Pizza, drinks, and the playwright's gratitude will be served up in abundance.

P.P.S. Yes, I realize that Zeus eventually got his hands on that irresistible heifer by sending Hermes to lull Argos to sleep with a long-ass boring story and then slaying him with his sword. But I promise if you attend the staged reading, you will not be stabbed to death, even if my long-ass boring play puts you to sleep.

P.P.P.S. But I can make no guarantees of safety for your white heifer. Best to leave it at home with Hera.