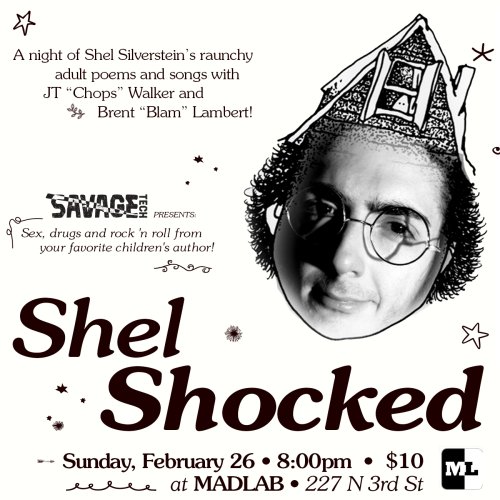 Chops and Blam (JT Walker and Brent Lambert) are both Columbus natives and have been performing together for about a decade now. The both love things that are funny, dirty and evocative and were happy to discover that the works of Shel Silverstein are all three and more! Shel is mainly known for his children's poetry but has a vast plethora of work that is in no way appropriate for underage ears. Here are some teaser snippets of what this raucous evening holds:
I'm So Good that I Don't Have to Brag

And I'm tellin'; you men keep
Your eighteen year old daughters off of my back
And your wives, they like the way I carry on
And why don't you go look at your mother for a while
You notice she's wearin'; a funny sorta smile
Well that just means I've been there and I've gone

The Perfect High

There once was a boy named Gimmesome Roy. He
was nothing like me or you.
'Cause laying back and getting high was all he cared to do.

Topless Town

But some thought Jenny Hollman was a bit too crass
Showin' up topless to teach her eighth grade class
But she proved that thanks to her PhD cup
Attendance was perfect and attention was way up.

Terrible Things

There was a chick way up in 'Frisco
Liked to grease me up with Crisco
But one hot day I slipped away and she hardly knew it
There was one o' them village swingas wanted me to
perform some cunnilingas
I said "Baby, if I can't pronounce it I ain't gonna do it"